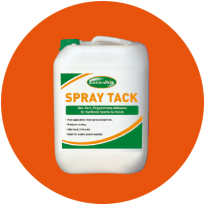 Spray Tack Carpet Adhesive
Spray Tack Carpet Adhesive is a high solid content, single component, solvented, moisture curing, sprayable polyurethane adhesive. It is suitable for bonding synthetic sports surfaces to a variety of substrates and possesses a high initial tack which allows positioning and good 'grab' of the carpet to the sub surface.
FEATURES
• High initial tack for fast 'grab' of carpet.
• Spray technique ensures fast application.
• High coverage rates by 'splatter spray' method.
• Strong, flexible, weatherproof final bond.
• Particularly suitable for needle punch carpet installation.