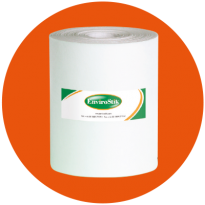 Seaming Tape SP Grade
Sport-Fix Seaming Tape SP is a specially constructed tape for use with the recommended Sport-Fix adhesive in forming strong bonds when seam jointing artificial grass carpets used in the surfacing of sports areas.
FEATURES
Impervious to moisture ingress from the base.
Strong rot proof geo-textile bonding medium.
Constructed to lay flat when rolled out.
Sealed back to prevent adhesive penetrating to base.
Minimum thickness to prevent show through at seams.
Ideal for tennis courts and similar sports surfaces.
The tape consists of a strong geo textile fabric on one side and this is laminated to a polyolefinic film to prevent the penetration of adhesive through to the under surface. Sport-Fix Seaming Tape SP is for use with shorter pile carpets, where it is important to minimise the height of the tape and adhesive at the seam joint.