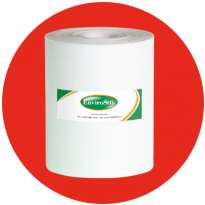 Seaming Tape LPX
LPX Seaming Tape is a specially constructed EXTRA STRONG tape for use with Multi Purpose Adhesive in forming strong bonds when seam jointing the third generation long pile artificial rubber/sand-filled carpets used in the surfacing of sports areas, particularly for football and rugby.
The tape consists of a heavy gauge geo-textile fabric, laminated to a strong polypropylene mesh film to impart high strength into the bonding medium and thus prevent any chance of tape breakage under the severe playing characteristics associated with rugby and football. LPX Seaming Tape is for use primarily with the longer pile, rubber filled carpets usually installed for these sports.
FEATURES
• Special reinforced construction ideally suited for 3G soccer and rugby carpet joints.
• Impervious to moisture ingress from the base.
• Strong rot proof mesh reinforced geo-textile bonding medium.
• Lays flat to substrate when rolled out.
• Sealed back to prevent adhesive penetrating to base.