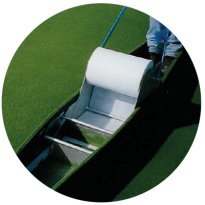 Seam Rite Machine
• Designed to make artificial turf applications quick and easy.
• For applying adhesive to 300mm & 400mm tapes.
• Two trays for different application requirements and consistent bonding result.
• Simply spread perfect ribs of adhesive along the centre of the seaming tape to form a strong bond.
• Works with all Envirostik two part adhesives.
• Portable & easy to clean.