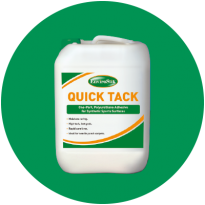 Quick Tack Carpet Adhesive
Quick Tack Carpet Adhesive is a one pack solvented moisture curing adhesive of brushable viscosity, designed for the bonding of a wide range of flooring materials, particularly short pile synthetic sports surfaces. It bonds well to most sub floors including concrete, bitumen, terrazzo and granolithic materials, and is resistant to all climatic conditions.
FEATURES
• High Tack allows application to one surface only.
• Easily spreadable by brush, trowel or squeegee.
• Curing is rapid, allowing minimum delays to further work on surface.
• Flexible weather resistant bonds.
• Particularly suitable for needle punch carpet installation when used with Special QT Seam Jointing Tape.