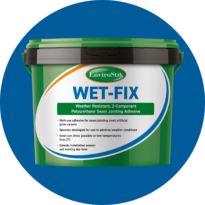 Multi Purpose Wet-Fix Adhesive
Multi Purpose Wet-Fix Adhesive is a two component polyurethane based adhesive system primarily designed for bonding artificial grass carpets to seam jointing tapes to produce a strong invisible joint along the carpet joints.
This special water resistant adhesive allows installation in damp or even wet weather conditions and with the addition of 'Rapid Set' accelerator, can also be used in low winter temperatures, almost down to freezing point.
• Specially for use in adverse weather.
• Bonds most carpets in damp conditions.
• Good cure times possible at low temperatures from 3°C.
• Bond strength specifications maintained.
• Packaging: 5kg, 10kg and 12kg