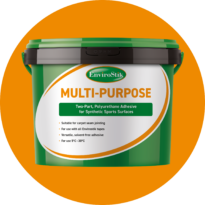 Multi Purpose Adhesive
Multi Purpose Adhesive is a two component polyurethane based adhesive system primarily designed for bonding, sand filled artificial grass carpets to our special seam jointing tapes to produce a strong invisible joint along the carpet joins.
• Formulated to form a high bond strength whilst remaining easy to use.
• For bonding all carpets and tapes.
• For general use on multi-sport surfaces.
• Versatile over 5ºC – 30ºC.
• Packaging: 5kg, 10kg and 12kg