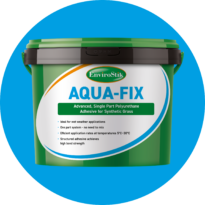 Aqua-Fix
Aqua-Fix is a single component, high strength, moisture curing adhesive specifically formulated for the bonding of artificial grass.
Aqua-Fix is tolerant of adverse weather conditions and environmental influences. We suggest following these simple rules to gain the best results: 
– Prior to application and to enable the adhesive to flow, it should be gently stirred to break down its rheological structure.
– Once the adhesive has been applied to the substrate, it should be combed out into beads of the recommended dimensions prior to making the bond. We recommend the use of our Seam Rite machine for this purpose to spread the correct application of adhesive along the centre of the seaming tape to assist in forming a strong bond.
– Under no circumstances should the adhesive be applied in excessive amounts to fill large voids – this would increase the tendency of foam creation and unacceptable expansion of the adhesive glue line.